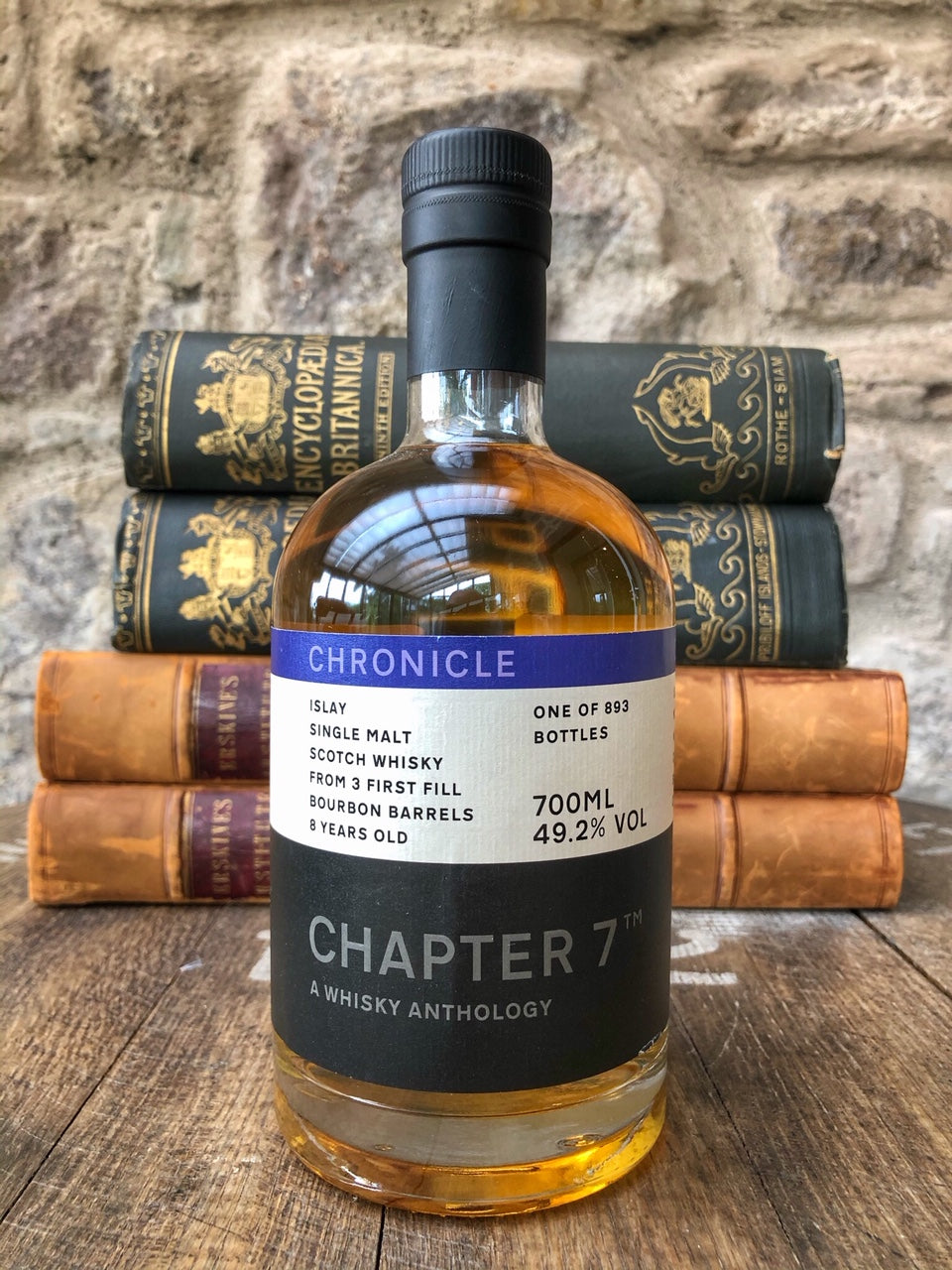 Here's a great summary of what we've tasted and discussed during our virtual tasting in August 2020, with The London Whisky Club. I'm sorry posting this so late but I just came across!
Chapter 7
Write up by Luke Jones
This week's tasting from the London whisky club saw Chapter 7 welcomed in the virtual tasting room, with founder Selim Evin taking us through the drams.

Chapter 7 is an indie bottler some of us have been keenly looking forward to tasting for quite some time. The company started in 2013; from the way in which Selim talks so fondly of his background one senses this was something of a lifetime ambition, his roots going all the way back to distillery trips at the age of sixteen with his Scottish grandfather. But he would come to realise that whisky was more than just liquid; it was social, it brought friends together and this passion is at the heart of Chapter 7.
The brand itself was inspired by literature, the typography's provenance in that most unlikely of sources, UK traffic guide signs. Selim's passion shines through in the name, a reference to an ongoing Whisky Anthology in progress; each edition a respective 'chapter'. The number here is inspired by the Seven Ages of Man in Shakespeare's play As You Like It, a monologue comparing the world to a stage and life to a play… the idea being that whisky also evolves in seven stages. The first bottlings in 2014 were single casks, drawn from some of Scotland's lesser-known distilleries such as Glen Keith.   
During the Covid period Chapter 7 have released seven different bottlings and we are luckily enough to have six of those seven tonight.
Our line-up for the evening:
Blended Scotch 26yo 44.9%
Ledaig 24yo 1995 51.6%
Jura 1998 21yo 55.1%
Blended Malt Scotch 24yo 47.9%
Islay Single Malt 8yo 49.2%
Ledaig 10yo 2009 50%
Up first was the Blended Scotch 26yo 44.9%, composed of 50% malt with the grain contingent a vatted 31yo. This whisky has more body that usual blends because of the higher-than-usual malt makeup; the liquid is also very dark in colour, not surprising given the long time spent in second fill sherry casks. This is a good example of a well-balanced sherry bomb, fruity from the sherry and the wood spice from the malt. This offering was blended quite late in life although we don't know quite the age at which it occurred; this is unusual given that from the commercial angle, blending mature whisky makes little sense. Blended malts are priced a lot lower than single malts and are typically blended at a young age. Having spent a bit of time running through the background of Chapter 7, we were ready to move on to number two.


The second dram is a Ledaig 24yo 1995 at 51.6%, 242 bottles produced from a hogshead. Again – unusual because this one comes from an unpeated Ledaig cask; those familiar with Ledaig and Tobermory will recognise they are typically peated and unpeated respectively, and our efforts to get the bottom of this led to a few theories. Could this have been a mistake… unpeated spirit filling a ledaig cask… or even an experiment? After all it wasn't until 1996 that Tobermory started to distil Ledaig as we know it today, the heavily-peated whisky. Despite all the talk of the whisky being unpeated, there is a very slight hint of peat; this is not a first fill so the peat /smoke could well owe something to Ledaig previously held in the cask. Overall this was a fun and complex whisky, especially given Tobermory is now increasingly becoming a victim of its own success where reasonably-priced casks can no longer be sourced. 


Before moving on to the third dram, Selim gives his views on what makes a good whisky. His view was well thought out, and somewhat simple when you break it down. Whenever you go back to a good whisky you can always taste something new; this typically comes with age. Finishing can bring layers but the age gives the complexity and dimensions. 


Our third dram is a Jura 1998 21yo at 55.1%. Over the last few years Jura hasn't exactly been hitting the spot with whisky drinkers, but Selim's view differs in that it is always possible to find a good older cask if you are prepared to look. While there also hasn't been a lot of love of Jura in the club, a few good bottles have cropped up recently; it goes to show all distilleries have gems hidden away, and the key for independent bottlers is to search out these casks. Doing so can be difficult, because of the waves of availability. There may be no casks for a period, then suddenly the market is flooded; this invariably leads to a number of indie bottlers all releasing from the same distiller within a short period. From initial responses it looks like this was another decent Jura, with the feedback generally positive. 


Up next, a Blended Malt Scotch 24yo at 47.9%. This was introduced as the controversial dram; it heralds from the Anecdote line which is the small batch offering (roughly two to three casks). Selim describes it as the experimental range, a sandbox for whisky if you wish. It was blended when the malts were about 3-4 years so pretty much straight at birth, and was from two barrels of same blends vatted together. Its make up is 17% Laphroaig and 20% Highland Park, the remainder coming from Speyside. Selim himself likes the blend but knew a lot would hate it. It's a real marmite whisky.


Our penultimate dram is an Islay Single Malt 8yo at 49.2%, taken from the Chronicle line. The initial batch is from first-fill barrels, the first five years in a hogshead and the final three in first-fill bourbon casks. Batch 2 will be vatted into first-fill bourbon cask, but with other finishes; the eventual aim is to own around 1,000 barrels, allowing enough scope for many different dimensions. Caol Ila was chosen as the spirit for its consistency; Selim talks of how when he was younger he didn't like peated whisky but Caol Ila changed this, so there is probably a personal element to this choice too. He remarks that it's also easily accessible on the market, which enables him to do a lot of experimenting. A few drops of water add a lot here, perhaps a surprise given the bottle is described as at its ideal strength; this is the idea behind the Chronicle line, a more accessible whisky with slowly-applied dilution making it more palatable for the general consumer. When Chapter 7 began, everything was cask strength; however with the first bottle at 65%, it didn't work for everyone! 


The last dram of the night is the Ledaig 10yo 2009 at 51%. This was again bottled 'at the ideal strength' and doesn't come with much of a back-story. It's an unedited Ledaig from bourbon hogshead; Selim came across a batch of same age sister casks and snapped them up, with the plan to use a number of then in blends. From experience we know that Ledaig performs well in peated blends, and peated whisky performs better at a younger age than other whiskies… we learn that this one doesn't typically perform too well in tastings but the group tonight really enjoyed it. It's meatier, with more peat than the Caol Ila, and the consensus is that it's generally a more balanced and all-round superior dram.


Going forward, Selim's plan is to have a release three times a year. The hope is for four, though understandably given current circumstances Chapter 7 will only manage two releases in 2020. Though unfortunately not yet on the upcoming releases, Selim's list of distilleries he'd like to bottle does Springbank and Laphroaig (though the top of his list is Ardbeg)… fingers crossed to that effect, and watch this space!
There was no official show of hands today from dram of the night but the Jura and both Ledaigs performed well. My favourite? The Ledaig 10yo 2009 51%.
Tasting notes
Blended Scotch 26yo 44.9%
Nose: This has a bit of a waxy nose with a touch of dry fruits. Figs and plumbs, offset with the sweetness of honey. And after a while maybe a hint of coffee and tobacco.
Taste: Its quite light in the mouth. The fruitiness is coming through with a backdrop of nut. For me there wasn't much more going on here. Inoffensive. 
Ledaig 24yo 1995 51.6%
Nose: Some have said wonderful nose, some have said weird. For me this was good especially after a few drops of water.  Floral notes with stone fruits.
Taste: Not overly complex with apricots being the strongest of the stone fruits coming through. There was defiantly some sweetness but dare I say I could not recognise the source.
Jura 1998 21yo 55.1%
Nose: Musky and dry. Not quite grass but more so hay and strangely a fruity milky note almost like a fruit smoothie but not quite.
Taste: Kiwi, lemon, mango, butter and a cheesecake base. For me this was like a deconstructed cheesecake followed by a shot of lighted roasted espresso.
Blended Malt Scotch 24yo 47.9%
Nose: Very different on the nose. Soapy undertones which people quickly liken to chemical, plasticine and paint. For me it was definitely soapy bubbles.
Taste: A chalky almost powder texture with a nuts roasted in salted butter.
Islay Single Malt 8yo 49.2%
Nose: Prawns and seafood were mentioned on the night although I couldn't get any of this. I was getting the costal notes with pears drizzled in honey.
Taste: Again the pears coming through but now it was smoked pears and the honey has turned to caramel.
Ledaig 10yo 2009 51%
Nose: Costal and maritime with bananas and peanut butter.
Taste: Nice texture, complex fruit, smoke, and richness.